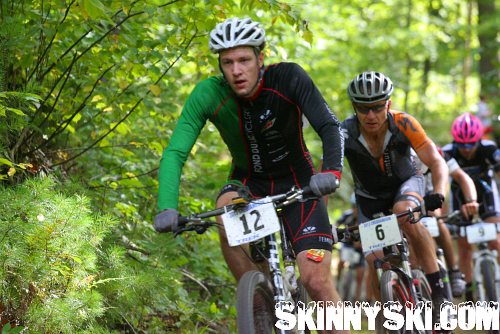 Survived another Fat Tire 40! This year was my 19th consecutive 40 with only one DNF that came in 2003 when I got caught up in a bad crash on Hwy 77 about half-way to Rosie's Field and hauled away in an ambulance. This year the start was pretty uneventful with only a few close calls on Hwy 77. Starting up front still doesn't guarantee a stress free trip all the way to Rosie's Field. The ATV's were criss-crossing for some reason and the field kept shifting back and forth whenever one of these supposedly skilled throttle jockeys made a move. From Rosie's to OO my race was pretty calm and I had found a good pack to settle into. I believe that we were the third group of chasers behind the leaders and OO came quickly this year. Just after OO, my first big mistake happened when I botched the bottle hand-up from Laura after 23 years of never dropping a bottle from her. After skidding several yards to a stop from about 20mph, Laura ran to me with another bottle as I stormed angrily away in an attempt to catch back on to the group I was with. Luckily and with a huge effort, I bridged back up by Janet Rd and latched on to recover knowing that more climbing and attacks would be coming. I burned a big match getting back onto the group, but it was a gamble that needed to be taken or else I would have been easily ran down by the next chasing group on the fire roads. After Martel's Pothole the pace was up and down for many miles.
It seemed like pretty smooth sailing until Seeley Firetower when my legs decided to not cooperate. I hung on until about mile 33 before finally going into damage control and riding solo until 2 miles to go. With one mile left, I got caught by a small group that included my good friend TMF and I had no response in my legs to go with him to the finish. From that point on, I got passed by two more with the finish line in sight and tried to push hard one more time with what I had left, but still ended up losing the final age group podium spot by just half a second at the line.
Overall, it was still a great day on my bike with my teammates and friends all having good races. It's also always entertaining spending the weekend with my A212/Specialized Team even though Mikee thinks that he can easily ski the Birkie! In the end, I'll take my 36th overall and over analyze it until I again roll up into my starting gate next year for my 20th Fat Tire 40. Pedal on...